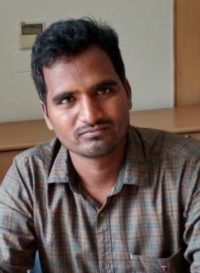 Dr. K. Seenaiah
Assistant Professor
:seenaiah@isid.org.in
:seenueconomiks@gmail.com
Profile
I am an Assistant Professor at the Institute for Studies in Industrial Development (ISID), New Delhi. I have received my Ph.D. in Economics from Indian Institute of Technology Hyderabad, India. My doctoral research mainly focused on studying the impact of Innovation and Technological Change on Economic Performance in general, particularly at firm level in Indian context.
Area of interest
Industrial Organization/Business Environment
Economics of Technological Change
Journal Articles
Ruixian Huanga, Seenaiah Kale, Sudharshan Reddy Paramatic, Farhad Taghizadeh-Hesaryd (2021), The nexus between financial inclusion and economic development: Comparison of old and new EU member countries, Economic Analysis and Policy, Volume 69, March 2021, Pages 1-15.
Seenaiah Kale (2020). Productivity growth of Indian banking sector: A comparative analysis of pre- and post-global financial crisis. Journal of Public Affairs, 1-13. https://onlinelibrary.wiley.com/doi/abs/10.1002/pa.2282
Seenaiah Kale & Badri Narayan Rath (2019), Does Innovation Enhance Productivity in case of Selected Indian Manufacturing Firms, Singapore Economic Review.
Seenaiah Kale & Badri Narayan Rath (2018), Does Innovation Matter for Total Factor Productivity Growth in India? Evidence from ARDL Bound Testing Approach, International Journal of Emerging Markets, Vol. 13 Issue: 5, pp.1311-1329.
Seenaiah Kale & Badri Narayan Rath (2018). Determinants of Innovation in Selected Manufacturing Firms in India: Role of R&D and Exports. Science, Technology & Society, 23:1 (2018): 1-20, Sage Publications.
Seenaiah Kale & Badri Narayan Rath (2017). Obstacles to innovation in selected Indian manufacturing firms (International Journal of Technological Learning, Innovation and DevelopmentVol. 9, No. 4, 2017, InderScience Publishers.
Sudarshan Reddy et al., (2017). The dynamic impact of bilateral trade linkages on stock market correlations of Australia and China. Applied Economics Letters, Routledge Publication.[Co-authored].
Seenaiah K, Badri Narayan Rath and Amaresh Samantaraya (2015). Determinants of bank profitability in the post reform period: Evidence from India. Global Business Review, 16 5(s), 82s-92s, Sage Publications.
Seenaiah K & Badri Narayan Rath (2015). The impact of fiscal deficit and productivity on current account deficit in India. The Indian Economic Journal, Vol 63 (3), October- December, 2015.