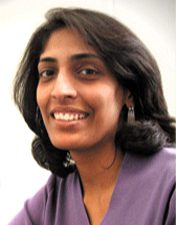 Seema Goyal
Professor
[email protected]
[email protected]

Seema Goyal joined the institute as full time faculty member in March 2001. Having earned Master of Arts in Economics from Jamia Millia Islamia, New Delhi and the terminal degree, Master of Fine Arts in Film and Electronic Media, from American University, Washington D.C., USA, she has extensive experience in India as well as the United States in both teaching and media production.
Ms Goyal has produced and directed several productions for various television channels on topics related to history, economics and current affairs. She has also been associated with the Indian Institute of Mass Communication, New Delhi, as a visiting faculty in the Advertising and Public Relations Division for almost nine years, and has worked as an adjunct as well as full time faculty member in the Visual Media Division of the School of Communication, American University, Washington D.C., USA. She has taught various courses ranging from general education courses such as Visual Literacy to Basic and Intermediate Film and Video Production courses as well as courses in producing TV Commercials. She has also delivered lectures at various faculty up-gradation programs in universities and academic training institutes in India.
Ms Goyal has been engaged in teaching and production of audio visual material on the interface between communication media and socio-economic development for past several years. As Associate Professor in-charge of multimedia at the institute, she is responsible for development of audio-visual versions of the institute's research output on various economic and policy related subjects for more effective communication among academics, policy-makers and public at large. Besides this she is also engaged in developing training material and programs for the use of audio-visual medium in socio-economic research and in setting up the infrastructure for the new state-of-the-art Media Center being constructed at the institute's new campus.
Reseach Interests : Women studies and highlighting problems of development through audio-visual presentations.