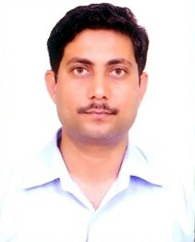 Dr. Akhilesh Kumar Sharma
Assistant Professor
Profile
Dr. Akhilesh K. Sharma is a Development Economist.?? At present, he is Assistant Professor at Institute for Studies in Industrial Development, New Delhi. Previously, he has been affiliated with Institute for Human Development, New Delhi and Institute of Economic Growth, New Delhi.
Dr. Sharma has obtained his doctoral degree in Economics from Banaras Hindu University. He has achieved international award in the category of young scholars from Alfred Nobel Charity Fund in 2011. He has achieved Jawaharlal Nehru Memorial Doctoral Fellowship during his Ph.D.
Areas of Interest/Specialisation
Micro Small and Medium Enterprises (MSMEs), Human Development, Social Protection, Inclusive Growth, Institutional Economics and Macro-Economic Modeling
Selected Publications
'Macro-Economic Impact of MGNREGA in India: An Analysis in CGE Modelling Framework', PEP Working Paper 2017-11; with Atul Sarma, Charanjit Kaur, Deeksha Tayal.
'Macroeconomic Impact of Social Protection Programmes in India', Economic and Political Weekly, 2016, Vol. LI (24):121-126; with Atul Sarma and M. R. Saluja.
'Foreign Investment in Indian Manufacturing Firms and Its Impact on Firm Performance' The Journal of Industrial Statistics, 2015, 4 (1):1-18; with B. N. Goldar.
'Impact of Social Laws on Viable Economic Growth' the Nobel Economic Bulletin, 2014, 1(7): 407-416.
'A Social Accounting Matrix for India 2007-08', Artha Vijnana, 2014, 56(2); with B. K. Pradhan and M. R. Saluja.