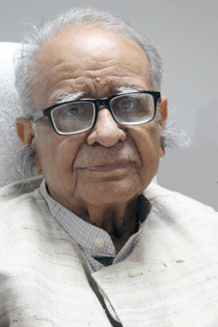 Shri T.N. Chaturvedi
CHAIRMAN
Former Governor of Karnataka and former Comptroller & Auditor General of India
Profile
Shri T.N. Chaturvedi was educated at Allahabad University where he took his degrees in M.A. L.LB. He joined the Indian Administrative Service in 1950, and was allotted the Rajasthan cadre. On deputation with the Government of India, he worked as Joint Director, National Academy of Administration; Chief Secretary, Delhi Administration; Chief Commissioner, Chandigarh; Director, Indian Institute of Public Administration; Secretary, Ministry of Education, Culture and Sports; and Secretary, Ministry of Home Affairs. He was sworn in as Comptroller and Auditor General of India in 1984. He was elected to the Rajya Sabha in 1992 and 1998.
He was Chairman, Standing Committee on Industries and Member, Committees on Defence and External Affairs. He was elected to the Executive Board of UNESCO in 2000. He was Governor of Karnataka from 2002 to 2007. He was also Governor of Kerala in 2004. He also served as Chairman of the Executive Committee, Nehru Memorial Museum and Library. He is currently Chairman, Indian Institute of Public Administration; Chairman, Institute for Studies in Industrial Development; Chairman, The Lala Dewan Chand Trust; and Chairman, Society For Indian Ocean Studies. He has authored two books and edited many more.
The many honours he received include the Plaque of Appreciation for his contribution to public audit and public administration by Eastern Region Organisation of Public Administration (EROPA), Manila in 1987. He was awarded the Padma Vibhushan by the President of India for his contribution to public affairs in 1990. He has been conferred honorary degrees by the Lal Bahadur Sanskrit Vidyapeeth, New Delhi and by Punjab University, Chandigarh.