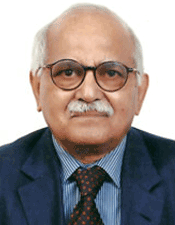 Shri S.K.Misra
CHAIRMAN
Chairman, Indian Trust for Rural Heritage and Development; Emeritus Vice-Chairman of INTO (the International National Trusts Organisation)
Formerly: Chairman, Indian National Trust for Art and Cultural Heritage (INTACH) and Principal Secretary to the Prime Minister
Profile
Born October 8, 1932
Early education: Kanpur – Girls' High School and Christ Church College
BA & MA: University of Allahabad
Father: Prof H.N Misra – educationist -Vice Chancellor Kanpur University
Life Partner: Maureen Liebl
Children: son – Abhishek, daughter – Prateeksha, grand daughter – Ankita, grandson Jaiveer 
Shri S.K. Misra has been selected for the prestigious Indian Administrative Service (IAS) 1956-1997. He held various senior administrative positions both at the State level (Punjab& Haryana) and in the Government of India. In the State of Haryana served as Principal Secretary to 3 Chief Ministers and in the Govt of India held important positions in the Ministries of Defence, Culture, Textiles, and ending up as Secretary in the Ministries of Tourism, Civil Aviation and Agriculture and finally as Principal Secretary to the Prime Minister. After retirement appointed to the Union Public Service Commission responsible for selection of top civil servants and foreign service personnel. 
Accomplishments
Tourism

–

Put Haryana on the tourism map of India by pioneering Highway Tourism – a trend setter for the country

.  

 

As Chairman and Managing Director

o

f India Tourism Development Corporation (ITDC)

,

a Govt of India undertaking –

brought it into profit

.

 

As Secretary Ministry

o

f Tourism – gave a new meaningful direction to Tourism




Education

.

 

Involved with the setting up of the Punjab Agriculture University and the Haryana University

.

 

Founded the School

o

f Sports

– a

non-elitist

public school in Haryana providing same facilities and quality of education as the best public schools

in

the country but free or affordable to children whose parents could not afford.

 

The only institution of its type in India funded entirely by the State Govt

.

 

Set up a primary school in a village in UP providing free education to children of depressed classes and focusing on the girl child

.

 
Promotion of Traditional Crafts
Founded the Suraj Crafts Festival in 1987 – to provide marketing facilities to craftspersons from all over the country – an opportunity to show case their skills at the national capital over a period of 15 days at a tourist resort – ultimately attracting participation of Indian States and a number of foreign countries and more than a million visitors every year – a big boost to tourism including 40000-50000 from abroad.

Founded the Azamgarh Festival in 2013 – to promote 400 year old crafts from 2 villages and a classical music tradition equally that old.  Apart from Delhi the Festival is organised in UP also at Lucknow and is being extended to Kolkata. 
Founded the Patiala Crafts and Cultural Festival
Founded the National Institute of Fashion Technology (NIFT) in 1986; modelled on the Fashion Institute of Technology (FIT) New York and in collaboration with them Top designers of the country are products of NIFT 22. 
Heritage
As Head of the Indian National Trust for Art and Cultural Heritage (INTACH) (perhaps the largest NGO In the country) for nearly 10 years oversaw the conservation of architectural heritage in the country outside the sphere of the Govt organisation Archaeological Survey of India. 
Founded the Indian Trust for Rural Heritage and Development in 2011 – focussing on the rural Sector in India (covering 8 States) – conservation of rural heritage both architectural and cultural and traditional. Also promoting rural development to generate additional employment opportunities, initiate livelihood schemes, Skill development, rural tourism, infrastructure development, free primary education, women's empowerment, youth involvement in social work and development etc. Funding Donations, Membership, Corporates, State Governments and Govt of India.   Website: www.itrhd.com.   Also organise seminars, and workshops and bring out prestigious publications on issues relating to culture, rural development and related issues, architecture, tourism, Myths, Legends, Tribal culture, cuisine, rural Sports Traditional healing systems, folk music etc. 
Planning to set up Academy for Conservation and management of rural architecture initially focussing on Buddhist rural architecture,; also planning detailed documentation of heritage in rural areas with recommendations for adaptive reuse.
Under his overall direction as Chairman ITRHD  architectural conservation of monuments – Hindu (17th-18th century 62 terracotta temples, village Maluti in Jharkhand),  Muslim (700 year old Dargah of Sheikh Musa, Nuh), Secular Old Jail in Ranchi (to be converted into Tribal Museum). 
Culture
Organised the prestigious Festivals of India in France, USSR and Japan in the early 80's – resulting in greatly increased tourism to India. 
Interests
Travelling (extensive abroad) – Photography- Reading – Bird watching (now given up) – Tourism – Heritage – Rural Development and Films (produced one feature film directed by one of the top directors in the country, Shyam Benegal) – Writing (my memoirs – Flying in High Winds) – and launching several prestigious publications for ITRHD – Yoga – Golf – Good Food. 
Recognition
Several Life time Awards in Tourism, awards in other fields also and the third highest civilian award Padma Bhushan from the President of India in 2009 for outstanding services in the field of administration and public service.