ISID Foundation Day Lecture 2022
Mr Gerd Müller, Director General, United Nations Industrial Development Organisation (UNIDO), Vienna, delivered the Foundation Day Lecture on "Industrial Strategy for the Post-Pandemic Era: Scaling-up the Inclusive and Sustainable Manufacturing Transformation" on May 25, 2022. Speaking on the post pandemic strategy, the keynote speaker, Mr Müller advocated for industrialisation as a means to end poverty, conduct fair trade, and achieve environmental sustainability. He emphasised on effective cooperation in terms of technology, business models, financing, and partnership to achieve 'progress by innovation.'
Mr Müller expressed confidence that India can fuel economic growth and socioeconomic progress to achieve the sustainable development goals, as also seen from the launch of the Make-In-India programme, as a self-reliance pandemic recovery strategy. He assured that UNIDO, as an apex international body promoting industrialisation, stands at India's side to achieve a thriving, globally competitive India.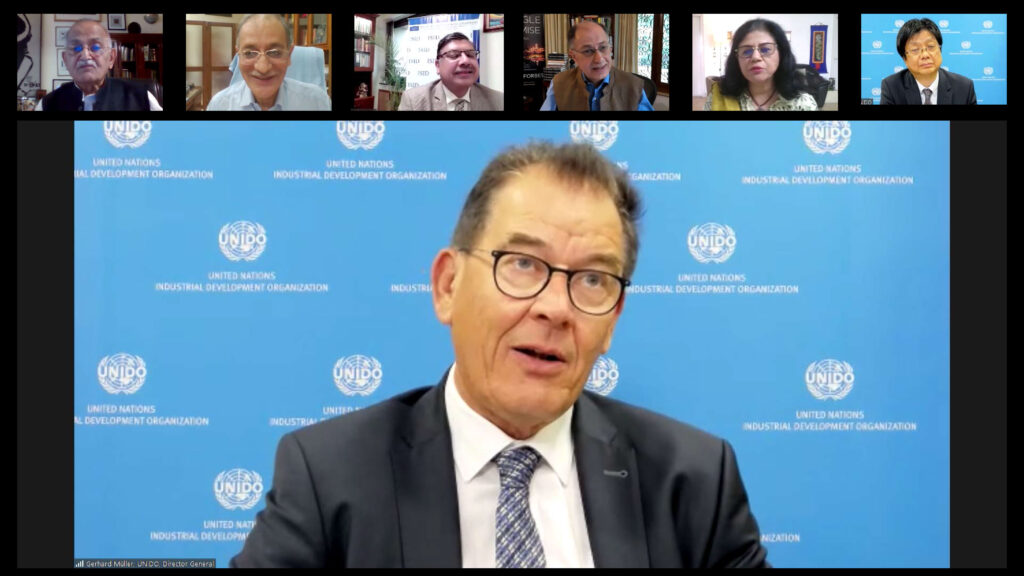 He elaborated on the three main trends of the industrial development landscape. First is digitalisation that helped economies to respond and recover from the pandemic. The pandemic increased the integration of digital. The second trend relates to industrial greening, which is about the need to address the man-made planetary crisis of climate change, the loss of biodiversity, and pollution. Third is the rebalancing of the supply and value chains through further development and diversification. The global value chains must be contrived for a more resilient and more fair trade. With technology, knowledge, and a strong political will of the political leaders, the lives and livelihoods of the poor and the hungry can be improved.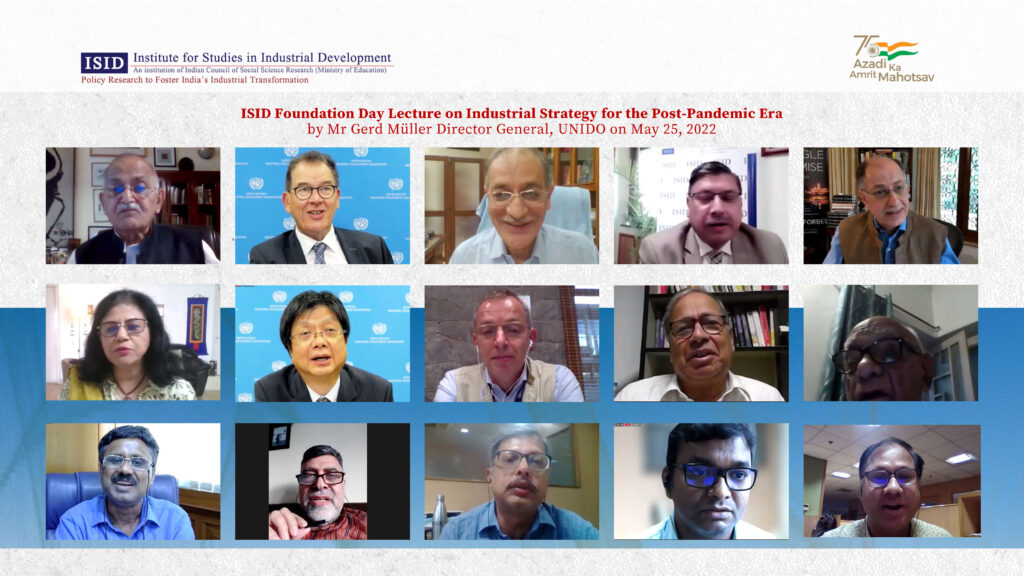 Ms Sumita Dawra elaborated the PM's vision for a new Indian and Atmanirbhar India based on five pillars: intent, inclusion, innovation, infrastructure, and investment. She shared many initiatives of the government in the pre-COVID, COVID and post-COVID period, for a self-reliant and strong Indian industry. During the pandemic, India used the disruption as an opportunity to grow. The Department for Promotion of Industry and Internal Trade (DPIIT) has undertaken flagship programmes such as the PM's Gati Shakti to strengthen infrastructure for industry, Start-up India to promote start-ups, and Make in India to promote manufacturing as well as holistic development of products under the ODOP initiative.
Dr Naushad Forbes shared that to make India's industrial policy more robust, it is important to focus on (i) building technical capacity to achieve long-run competitiveness; (ii) generating employment in labour-intensive manufacturing to attain inclusive manufacturing; and (iii) imposing carbon tax to stimulate investment in low emission infrastructure and achieve sustainable manufacturing.
Prof Nagesh Kumar asserted that India is moving in a decisive manner to catch up with the potential of manufacturing with programmes like Make-In-India, Atmanirbhar Bharat, and schemes like PLI (performance-linked incentive). He underscored the role of an inclusive and sustainable transformation of manufacturing in the process of the economic recovery from the shock of the COVID pandemic.
Mr S K Mishra mentioned that tapping the potential of development around the developing world would be useful in framing India's industrial policy.
'Progress by innovation' essential to scale up and speed up development progress with inclusive and sustainable industrial development, said Mr. Gerd Müller, Director-General, UNIDO
Click here to view the YouTube link of the Foundation Day Lecture