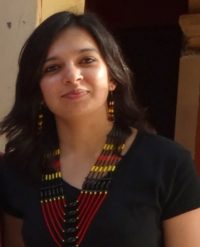 Dr. Surya Tewari
Assistant Professor
:surya@isid.org.in
:suryatewari@gmail.com
Profile
Surya Tewari is PhD in Geography from Delhi School of Economics, University of Delhi. During her PhD she worked as University Teaching Assistant. She contributed extensively to ICSSR in the preparation of 'Journal of Abstracts and Reviews Geography'. She also worked as Research Officer in a project, 'Urbanisation of Uttarakhand' at ISID. The project was sponsored by Fourth Uttarakhand State Finance Commission. She also taught as Assistant Professor in Kalindi and Dyal Singh (Morning) College of Delhi University.
Areas of Interest/Specialisation
Urban and Regional Studies
Recent Publications
Ramachandran, H, Surya Tewari and Arifa Begum (2017). Infrastructure and hierarchy of urban centres in the hill state of Uttarakhand. Hill Geographer 33(1): 1-10.
Tewari, Surya and H. Ramachandran (2017). Methodological Issues in Studying Urban Influence; in, Sharma, P. and S. Rajput (eds.) Sustainable Smart Cities in India, Springer International publishing, Switzerland: 41-58.
Ramachandran, H, Surya Tewari and Arifa Begum (2016). Urbanisation of Uttarakhand. Institute for Studies in Industrial Development, New Delhi.