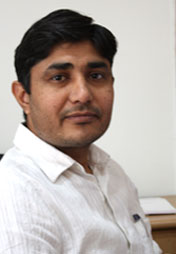 Dr. Shailender Kumar
Associate Professor
:hoodask@isid.org.in
:skhooda.jnu@gmail.com
Profile
Shailender Kumar Hooda is Ph.D in Economics from Jawaharlal Nehru University, New Delhi. He works on health economics issues especially equity, financing, corporatisation and healthcare industry. He has expertise in handling unit level data of NSSO/ASI/IHDS, other data relating to Indian economy, conducting and designing primary survey. Previously, he taught at Motilal Nehru College, University of Delhi and Maharshi Dayanand University, Rohtak. He has also worked with National Council of Applied Economic Research and National Institute of Public Finance and Policy, New Delhi.
Areas of Interest/Specialisation
Keywords
Health Economics, Public Economics, Institutional Economics, Applied Econometrics, Informal Sector and Regional dimension of Industry.
Recent Publications
NHPS is Simply Not Sustainable, Financial Express, (Thursday) June 28, 2018.
NHPS: Step towards Transforming the Healthcare System-at What Cost?, Vikalp, Sunday, April 08, 2018.
Growth of Formal and Informal Private Healthcare Providers in India: Structural Changes and Implications, Journal of Health Care Finance, Chicago, Vol.44(2), 2017.
Health Payments and Household Well-being in India: How Effective are the Health Policy Interventions, Economic and Political Weekly, Vol. 52(16):54-65, April 22, 2017.
Out-of-Pocket Payments for Health Care in India: Who have Affected the Most and Why? Journal of Health Management, Vol. 19 (1):1-15, 2017.
Foreign Investment in Hospital Sector in India: Status and Implications, Foreign Trade Review, Vol. 52(4), 2017.
Effectiveness of Local Government and Community Participation in Health Service Delivery in Rural Haryana, International Journal of Rural Management, Vol. 12(1):27-50, 2016.
Determinants of Public Expenditure on Health in India: A Panel Data Analysis at Sub-National Level, Journal of Quantitative Economics, Vol 14(2): 257-282, 2016.
Health Insurance, Health Access and Financial Risk Protection. Economic & Political Weekly, Vol. 50(50):63-72, December 12, 2015.
Government Spending on Health in India: Some Hopes and Fears of Policy Changes. Journal of Health Management, Vol. 17(4):458-486, 2015.
Health Expenditure, Health Outcomes and the Role of Decentralized Governance: Evidences from Rural India, Journal of Indian School of Political Economy, Vol. XXVI, Jan.-Dec, 2014.