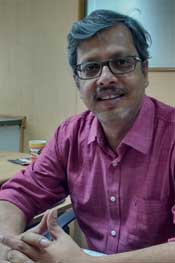 Dr. Satyaki Roy
Associate Professor
: sroy@isid.org.in
: satyaki.sat@gmail.com
Profile
Dr. Satyaki Roy currently working as Associate Professor at the Institute for Studies in Industrial Development (ISID), New Delhi did his Masters from Jadavpur University and Ph.D. from the University of Calcutta. His initial research focuses on industrial clusters in India and the nature of spatial concentration of production in the context late industrialization. He has worked and published extensively on diverse issues related to labour and employment, structural change in India, emerging trends in the manufacturing sector; growth and human development in India and political economy of informality. He worked on various projects sponsored by the Indian Council for Social Science Research; Planning Commission, GOI; Department of Science and Technology, GOI and inter-country comparative studies sponsored by IDRC, Canada and IDE, Japan. His current areas of interest include global production network, its implications on the process of industrialization in developing countries and the emerging nature of global hegemony in the context of globalization.
Book
Contours of Value Capture: India's Neoliberal Path of Industrial Development, Cambridge University Press, UK., 2020.
Small and Medium Enterprises in India: Infirmities and Asymmetries in Industrial Clusters, Routledge, Taylor and Francis Group, UK, USA, Canada, 2013.
Recent Research Papers
'Global Production Network: The New Template of Power and Profit in the Regime of Empire' in Achin Chakraborty, Anjan Chakraborty, Byasdeb Dasgupta and Samita Sen (eds), Capital in the East: Reflections on Marx, Singapore: Springer, pp. 87-102, 2019.
'Labour–Capital Conflict and Permeation of Class in Marxian Categories' in K.R. Shyam Sundar ed. Perspectives on Neoliberalism, Labour and Globalization in India Singapore: Palgrave Macmillan, pp 61-78, 2019.
'Revisiting Capital and the Revolution Against Capital' Social Scientist, 46 (3-4) pp. 55-68, 2018.
'Decoding Resistance in the Globalized Regime of 'Social Labour', Social Change and Development 15(1), pp. 1-15, 2018.
'Imperialism 'Old' and the 'New': Departures and Continuities' in Sunanda Sen and Maria Cristina Marcuzzo (eds.) Imperialism Changes its Face:  From   colonialism to contemporary capitalism, Routledge 2017.
'Rent and Surplus in GPN Framework: Identifying 'Value Capture' from the South' in Agrarian South: Journal of Political Economy 6(1), 32-52. 2017.