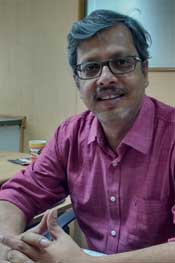 Dr Satyaki Roy
Associate Professor
: sroy@isid.org.in
: satyaki.sat@gmail.com
Profile
Dr. Satyaki Roy currently working as Associate Professor at the Institute for Studies in Industrial Development (ISID), New Delhi did his Masters in Economics from Jadavpur University and Ph.D. from the University of Calcutta.
His initial research focuses on industrial clusters in India and the nature of spatial concentration of production in the context late industrialization. His work on industries focuses on labour intensive sectors such as garments, leather, foundries as well as developments in automobiles and surgical instruments. He worked on various projects sponsored by the Indian Council for Social Science Research (ICSSR); Planning Commission, Government of India; Department of Science and Technology, Government of India and inter-country comparative studies sponsored by International Development Research Centre (IDRC), Canada and Institute of Developing Economies (IDE), Japan.
Besides his continued interest on industrialization and regional development he has worked and published extensively on diverse issues related to labour and employment, structural change in India and the emerging trends in the manufacturing sector; growth and human development in India and political economy of informality.
His current areas of interest include global production network, its implications on the process of industrialization in developing countries and the emerging nature of global hegemony in the context of globalization.