Six-day Online Workshop on Audio-Visual Media as a Tool in Research for Social Science Researchers
August 23-28, 2021
Objective of the Course
ISID's Media and Communication Division has been regularly conducting a six-day workshop on "Audio-Visual Media as a Tool in Research" for Young Social Science Researchers since 2013. Due to the ongoing Covid-19 pandemic, this year the workshop was conducted online from August 23–28, 2021.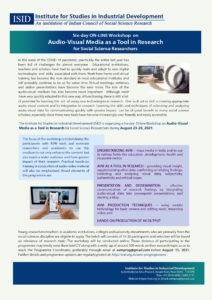 The workshop was inaugurated by Prof Amita Singh, former Professor and Chairman, Centre for the Study of Law and Governance, JNU, a highly respected public intellectual and columnist, Member of ICSSR, Country Director Network of Asia Pacific Schools and Institutes of Public Administration and Governance (NAPSIPAG) and President NAPSIPAG Disaster Research Group. Prof Nagesh Kumar gave the opening remarks and Prof Seema Goyal introduced the course modules.
The objective of the workshop was to enhance the research capabilities of young PhD scholars, and college and university teachers by introducing them to audio-visual media techniques and its integration into their work. The workshop offered opportunities not only to understand this new medium and its relevance for researchers and social scientists, but also to learn the technology and production techniques through hands-on training. Practical training comprised using mobile technology for shooting and editing audio-visual content and incorporating it into presentation modules such as PowerPoint along with creating a blog and uploading the same over the internet.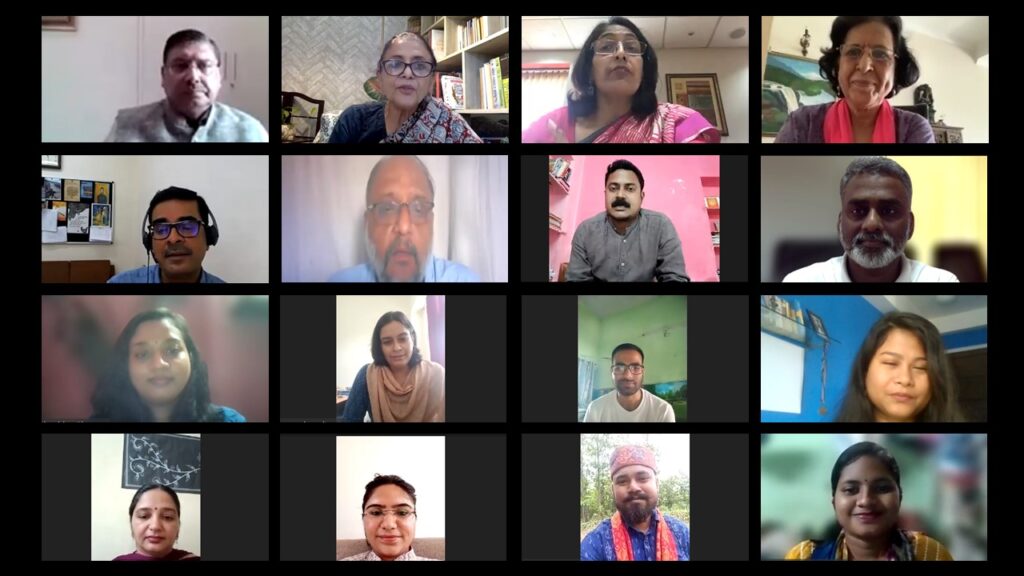 Faculty and research scholars from varied social science streams from educational departments and institutions participated in the workshop. Keeping in mind the technical hands-on practical nature of the training, and the online platform, it was proposed to keep the group small (15–20 participants). A total of 24 participants were short listed of whom 22 confirmed and 19 finally logged in for the inaugural session. Thirteen participants successfully completed the workshop. Most practical sessions were conducted and coordinated by the ISID team comprising Prof Seema Goyal, Mr Dhanunjai Kumar, and Mr Bhupesh Garg. Prof Jaishri Jethwaney, ICSSR Senior Research Fellow; Prof Anand Pradhan from the Indian Institute of Mass Communication; Mr Aditya Seth, an award-winning documentary filmmaker, Drishya Movies Pvt Ltd; and, Mr Parimal Kumar, Senior Journalist, NDTV India, took sessions on AVM for Advocacy and Outreach and Conceptualising and Envisioning Policy Research using AV Tools, Understanding Social Media, Documentary Films, and Mobile Journalism respectively. The workshop was organised by Prof Seema Goyal.
For Further Details and Workshop Updates Contact
Programme Coordinator
Institute for Studies in Industrial Development
4 Vasant Kunj Institutional Area
New Delhi – 110070 INDIA
Email: avmprog@gmail.com